Welcome to the Parkview High School Theatre Department! Our internet site is a gateway to the many happenings related to theatre at Parkview High School in Lilburn, Georgia. The Parkview Theatre department produces several stage productions each year and is very involved in service projects around the community. With a strong drama club and active Thespian troupe, awards and accolades on regional, state, and national levels, and a dedicated group of students, parents, and advisors, Parkview Theatre is a standout organization in the Georgia theatre community.
Ticket Reservations can me made here. We look forward to seeing you at our productions!
To contact the director, Mrs. Sharon Morrow by Email.
Click here for directions.to Parkview High School.
Our upcoming shows are:
Jerry Finnegan's Sister, which will be at the One Act Play Competition on October 22nd.
Haunted House on October 30th
More information coming soon on the Haunted House.
Seussical the Musical November 12th-15th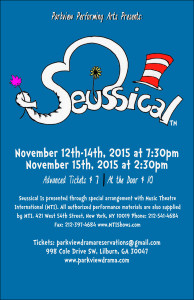 A Christmas Carol from December 3rd-6th